Software Developers
PrinterCE SDK
PrinterCE.NetCF SDK
PocketHTMLprint SDK
+ + + + +
Printing Utilities
PrintPocketCE
PIEprint
PocketPixPrint
PocketShot
PocketClipPrint
+ + + + +
Special Topics
Supported Printers
Bluetooth Printing
Network Printing
Arcade Games
SockOut
MazeCraze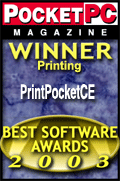 PrintPocketCE
For Software Developers

Visual Studio.Net Compact Framework Developers!!

PrinterCE.NetCF SDK
Add printing to your .Net CF apps:
- VB.Net and C# using .Net CF
- For .Net CF enabled Windows Mobile, Pocket PC, CE.Net ARM/XScale devices
- Many custom printer drivers!
- Color, images, TrueType fonts
- Optional barcode printing!
- Much more...

For eVC (C/C++/MFC) and eVB Software Developers!!

PrinterCE SDK
Add printing to your Pocket PC & Windows CE apps
- For eVC (C/C++/MFC) & eVB
- For .Windows Mobile, Pocket PC, CE.Net ARM/XScale, H/PC 2000/Pro
- Many custom printer drivers!
- Color, images, TrueType fonts
- Optional barcode printing!
- Much more...

PocketHTMLprint SDK For eVC Developers.
Add fully formatted HTML printing to eVC apps. More info

PocketHTMLprint.NetCF SDK For C# and VB.Net Developers. Add fully formatted HTML printing to .Net Compact Framework
C# and VB.Net apps. More info
PIEprint

-

Print fully formatted

HTML/Web pages

from within

Pocket Internet Explorer (PIE). For

WM6.1 and earlier

Check it out here!
| | |
| --- | --- |
| PocketShot - Capture & print full-color snapshots of Windows Mobile, Pocket PC and WinCE screens. Screen shots can be printed to a variety of printers and saved as BMP image files. | |

PrintPocketCE

-

M

obile printing solution for the Pocket PC. Print Pocket Excel spreadsheets, Pocket Word documents, Emails, Pocket RTF (rich text format) and plain text (TXT) files. Pocket Excel, Pocket Word and Pocket RTF files are printed with full text formatting, including multiple fonts, text attributes (color, plain, bold, italic, underline, strike-through) and justification (left, center right). Emails and plain text files are printed using any available font. Print to a wide variety of printers using Infrared, Bluetooth and 802.11b wireless network. Much more...

For Pocket PC 200

3

Check it out here!


WM, Pocket PC, H/PC2000, H/PC Pro

SockOut - a high-speed "ball and paddle" arcade game. With many unique levels to conquer and an assortment of special "fun-bricks", SockOut will keep you coming back for more...


WM, Pocket PC, H/PC2000, H/PC Pro

MazeCraze - a fast & furious arcade game. Can you keep Nerdly from the grasp of the government regulators as you pile up the points? Comes with a host of maze designs and special features...