-----------------------------
.NetCF: C#-VB.Net
Software Developers

PrinterCE.NetCF SDK
General Info
Download & Install
Purchase & Pricing
Upgrade from PrinterCE

Getting Started with:
C# - VB.Net
Code Examples
Documentation
PrinterCE for .Net CF
AsciiCE for .Net CF
BarcodeCE for .Net CF
eVC (C/C++/MFC), eVB:
PrinterCE SDK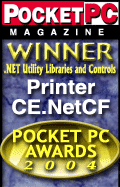 -----------------------------
Software Developers
PrinterCE SDK
PrinterCE.NetCF SDK
PocketHTMLprint SDK
Special Topics
Supported Printers
Bluetooth Printing
Network Printing
Printing Utilities
PrintPocketCE
PIEprint
PocketPixPrint
PocketShot
PocketClipPrint
Arcade Games
SockOut
MazeCraze
PrinterCE

.NetCF

SDK Purchasing Options
We recommend trying the fully functional free 60-day evaluation copy of PrinterCE before you buy: Download free 60-day evaluation copy of PrinterCE now
Click here to UPGRADE from PrinterCE to PrinterCE.NetCF.
After purchase, we will email you a "Developer's License Key". Pass this key to PrinterCE.NetCF constructor to unlock it for your program's use and to eliminate the "Evaluation" screen. For more info, see documentation. Read License Agreement
Company Purchase Orders: Payable by:
- Credit card (Visa and Mastercard only) - include card type, card number,
expiration date and phone number on Purchase Order.
- Check or money order in US dollars
- Bank wire transfer - Contact sales@fieldsoftware.com for info.
Purchase Orders may be faxed, emailed or mailed to:
Fax: (978) 246-7708
Email: sales@fieldsoftware.com
Mailing Address: FieldSoftware Products
1981 Teal Ln
Powhatan, VA. 23139 USA
To purchase directly without purchase order: Click here